We should get prepared to shift our view on agriculture development due to climate change. The changing rainfall patterns tend to prolong the dry season. Hence, the adaptation of agriculture practice to climate change is essential to make sure sustainable food production. Moreover, it is not only climate change that can hamper food production in the agricultural sector. We also have the loss of agriculture lands to the built-up area, next to hectares of farmland loss – being degraded – due to unsustainable use and management. To cope with these problems, farmers are required to use appropriate technologies and have better land management. 
The concern above was the talk of the opening plenary session during the 1st International Conference on Sustainable Tropical Land Management. Indonesian Centre for Agricultural Land Resources Research and Development, which is under the Ministry Agriculture of Indonesia, held this conference on 16-18 September 2020.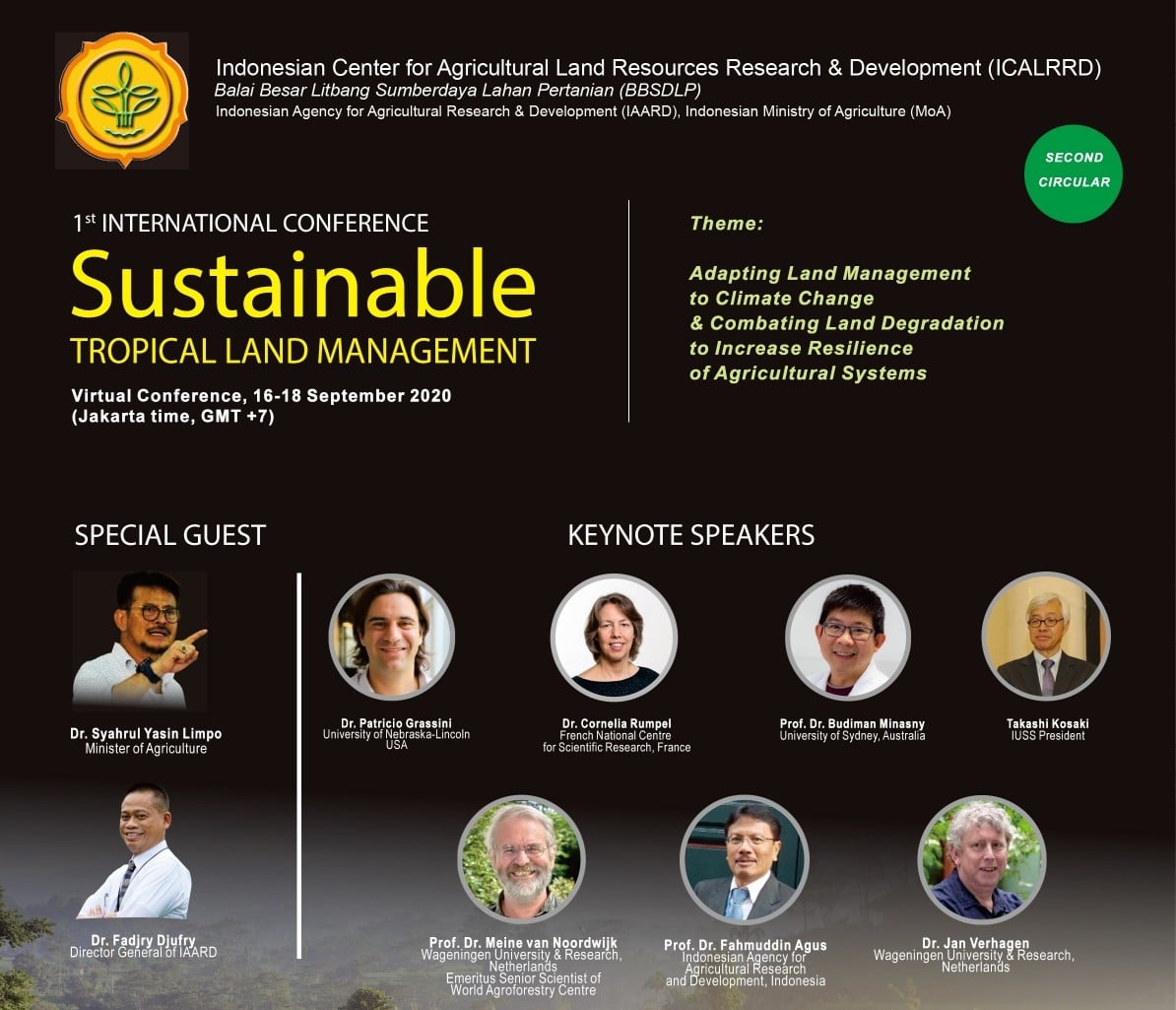 One of the speakers on the opening plenary session was Prof Meine van Noordwijk from the World Agroforestry Centre. In his talk, he focused on the topic of water in agriculture. Agricultural activities have induced the loss of hydrologic functions linked to infiltration, with some practice worse than others. His research results show that agriculture in the form of infiltration-friendly agroforestry can minimize infiltration and erosion. Better land management in agroforestry practice with canopy cover around 55 percent can maintain infiltration and keep erosion at acceptable levels. It eventually results in sufficient groundwater recharge for sustainable water input to stream and spring. 
The two-day conference output was indeed to formulate improved management systems in the tropics to increase climate change resilience. Increasing resilience means improving the food system's ability to respond and adapt to any disruption, so it can keep functioning properly. Only practicing sustainable agriculture is not enough in this changing food system due to climate change and Covid-19. Innovation in sustainable agriculture is necessary to make our food system resilient. It ranges from technology applications such as online delivery systems, biofertilizers, and solar water pump irrigation systems. It should be noted that after finding this innovation, the imminent challenge is to ensure that these new approaches are practical for the farmers.